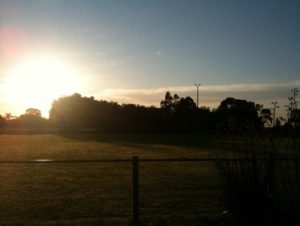 Wednesday of last week I woke early as I had a flight to catch. My alarm went off at 4.45am and as I opened my eyes I could see it was still dark outside. Before I left for the airport, I took my little dog Charlie for a walk. As we headed out the front door, we were greeted by a loud choir of bird songs.
It was really quite beautiful.
Even though it was still dark, I could sense there was the slightest hint of first light on the horizon (daylight saving hadn't kicked in yet!). The birds knew. They knew that the day loomed. They knew that possibilities were just around the corner. They were ready for action, even though it was still dark.
It got me thinking.
You don't need to wait for the day to be shining bright before you begin. You don't need everything to be in place before you start. Just like the birds this morning who were chirping at the sign of first light on the horizon, the slightest hint of possibility is enough for you to switch on and start creating action.
Do you have a hint of 'first light' on your horizon? Is there a chance for something great? The smallest sign is enough. Just begin and then trust in the process. You've got this!